These are the television gems of my childhood, the shows that aired between five pm and the 6 o'clock news on ABC, or on weekday mornings home sick from school. Thinking about my favourites, I notice a certain consistency with my current tastes ...
Somewhere in the dark and nasty regions, where nobody goes, stands an ancient castle. Deep within this dank and uninviting place, lives Berk (Allo!), overworked servant of "the thing upstairs" (Berk! Feed Me!) But that's nothing compared to the horrors that lurk beneath the trap door, for there is always something down there, in the dark, waiting to come out...
The Trap Door
was a four-minute claymation cartoon produced between 1984 (my year of birth) and 1986. In each episode the trap door is opened and a nasty thing escapes into the castle. There's lots of worms squirming about and the most disgusting food is concocted. Boni sits in his corner making sarcastic comments, dry observances, and generally being useless. So my favourite character! The show has a huge cult following and is available on DVD. *Resisting the urge to eBay*
The opening credits are very horror-film spoof:
Another horror-film spoof was
Duckula
, based of course on
Dracula
. This show ran for 22 minutes and I remember that it and
The Trap Door
would often be aired in the same half hour. Such happy times! Duckula is a reluctant blood drinker as he was resurrected using tomato sauce instead of blood due to one of Nanny's many blunders. To Igor's horror, instead of hunting for victims, Duckula strives for wealth and fame. Duckula's nemesis, Doctor Von Goosewing (named after Dracula's enemy, Doctor Van Helsing), refuses to believe he's harmless and appears in many episodes trying to stake him with this weird stake-slash-gun.
Count Duckula is perhaps the original tortured, angsty vamp, created long before Anne Rice's Louis made moping cool.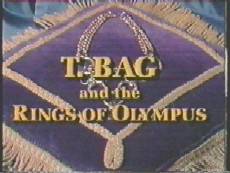 This was a series that I loved as an older child when I was home sick from school. It was filmed between 1985 and 1992 and was my introduction to the girl-goes-on-a-quest-narrative. There were about thirteen seasons of T-bag shows, but my favourites were
T-bag and the Rings of Olympus
and
T-Bag and the Pearls of Wisdom
. In each episode both the girl and the evil witch T-bag are searching for pearls or rings scattered across space and time--T-bag to obtain world domination and the girl in order to defeat T-bag. T-bag's reluctant sidekick often ended up helping the heroine, and I think became a love interest for the questing girls in later episodes when he was a teenager--but don't quote me on that, I may be remembering incorrectly!
My all-time favourite was, of course,
Doctor Who
. Everyone who loves the show had a favourite Doctor, and mine's Tom Baker. He defintely comes under the category of weird-looking-but-oddly-attractive men. No? Just me? (Unlike Christopher Eccleston, the first next-generation Doctor, who's just downright hawt.) Tom Baker actually married on of his companions (Romana, pictured) during the show, but it didn't last. I loved the drama of the
Doctor Who
, all the hand-holding and rushing hither and thither. Eccleston and Billy Piper did a great job of recreating all that I loved about the show (and OH! the final episode, so romantic and so sad!) but this new Doctor's totally lame. Doctor Who, in my opinion, should be freakishly tall and quirky. I just don't get quirky from him.
The show also wins my Best Opening Theme of All Time award. Classic.
Now do excuse me while I go relive my youth on YouTube.