I've already talked about the
Beauty and the Beast
references in
Meatloaf's "I would do anything for love (but I won't do that)"
and shared
The Greens Keepers' "Lotion"
, which draws in the book/film
The Silence of the Lambs
. This is becoming an unofficial series, methinks!
You promised me everything, you promised me thick and thin
Now you just say "Oh Romeo, yeah, you know I used to have a scene with him"

Today I was humming "Romeo and Juliet" by Dire Straits, a rather sad song from 1981 about lost love.
A love-struck Romeo sings the streets a serenade
Laying everybody low with a love song that he made.
Finds a streetlight, steps out of the shade
Says something like, "You and me babe, how about it?"
Juliet says, "Hey, it's Romeo, you nearly gave me a heart attack!"
He's underneath the window, she's singing, "Hey la, my boyfriend's back.
You shouldn't come around here singing up to people like that...
Anyway, what you gonna do about it?"
Rather than a literal interpretation of Shakespeare's play, the lyrics indicate that a man is pining for a woman who once loved him--presumably the love of his life--though it didn't work out. The Romeo and Juliet in the song didn't die; rather they broke up and lived on. The first two verses (above) are the man remembering how things used to be. The line, "He's underneath the window, she's singing, 'Hey la, my boyfriend's back' " is a reference not only to the balcony scene in "Romeo and Juliet" but also a 1963 pop-song by The Angels, "My Boyfriend's Back". If the song is at all autobiographical (and I haven't found any indication either way) the Angels song might indicate when the original romance took place, ie. in the sixties. Now it's the eighties, and poor old Romeo hasn't gotten over Juliet yet.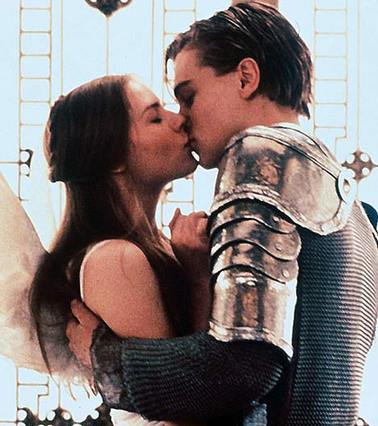 I've often thought the relationship described in
"Romeo and Juliet"
, if it had been allowed to run it's course rather than been cut short by the characters' untimely death, would have burned out. A different interpretation of this song is that it's a sort of sequel, Mark Knopfler's (singer/songwriter of Dire Straits) extrapolation of events if things had turned out differently for Romeo and Juliet, ie. they had lived.
Juliet, when we made love, you used to cry.
You said, "I love you like the stars above, I'll love you 'til I die".
There's a place for us, you know the movie song.
When you gonna realize it was just that the time was wrong, Juliet?

Grab a tissue and have a listen. The clip's a little corny and stiff, but the song itself is a gem.
What do you thing the song means? Is Juliet getting a bad rap here? Perhaps Romeo would have be the one to fall out of love first--back in love with Rosalind, whom he loved at the start of "Romeo and Juliet".