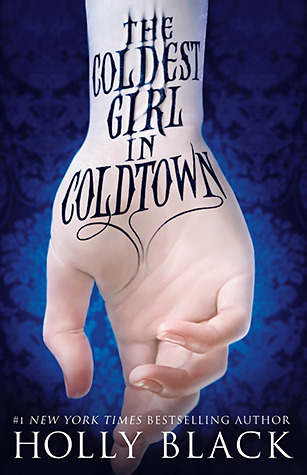 I have been in such a reading slump. I mean, I've been reading, but no YA. Instead it's been mags and history and Longreads, and that's FINE, you know. But it's not getting lost in an amazing story in the genre that I love.
On the weekend I was in Brooklyn with a friend and we went to Word and had a nose around. They have a small but very good YA collection, mostly fantasy and PNR.
The Coldest Girl in Coldtown
was a fat blue hardback on the shelf and tacked underneath it was a handwritten review that went something like "Thought you were over vampires? Read this!" And of course I'm not over vampires, but I still had to read it. (I also got
Graceling
for my friend as a thank-you for letting me stay, but also cos he was lovelorn and Katsa can wallop that right out of you.)
This girl called Tana goes to a party and wakes up in a bathtub the next morning, and everybody who was at the party is dead. In a bedroom she finds her friend Aiden tied to a bed, and on the floor is a vampire in chains. Outside the door are more vampires, and they want to kill all three of them. Tana doesn't want to die and she doesn't want her friend to die and she doesn't really know who this vampire is but he probably shouldn't die either, right? So she gets them all out of there, stuff happens, he's bit, she's sorta bit and the other guy is a vampire, so they head for a Coldtown.
Now, Coldtowns are like the Big Brother house but they're cities and the apocalypse has happened inside. And also The Bachelor and Strictly Come Dancing Too. All at the same time. They're where vampires and infected humans have to live, and were wanna-vamps go to try and get turned. There's a big baddies and little baddies and some good guys too, and they're all mixed up together in this place. And Tana might or might not be becoming a vampire.
There are so many quotable quotes in this book, and most of them come out of Gavriel's mouth. Gavriel is the vampire who Tana impulsively saves. I'm not going to quote any of them, though, because they're much better in the book.
OK, maybe just one quote.
Gavriel closed his eyes, sooty lashes brushing his cheek. "I'll stay with you."

"What? No," she said automatically. "No! That's crazy."

"I'm crazy," he reminded her.
Do you know when you get a really strong picture in your head of how a character looks in the book you're reading? Here's how Black describes Gavriel:
He must have been handsome when he was alive and was handsome still, although made monstrous by his pallor and her awareness of what he was. His mouth looked soft, his cheekbones as sharp as blades, and his jaw curved, giving him an off-kilter beauty. His black hair a mad forest of dirty curls.
He's also got a strange accent and he's all handsome and mad and charming, and I could help picturing ...
... everyone's favourite prince who got cocky dropped the GODDAMN BALL. GAH. (Prince Oberyn of Dorne, I still love you. You IDIOT.)
But back to
The Coldest Girl in Coldtown.
Basically this book is cool and sexy as well as being well written. What a trifecta. Loved it.
EDIT: Did I mention this book is gory? It's really gory. Gory-good.