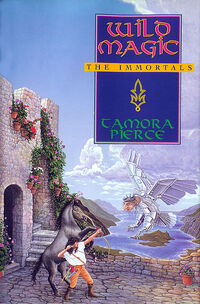 My reading has been rather erratic lately which means I haven't finished a book in a wee while. In between reading
The Warrior's Apprentice
by Lois McMaster Bujold for a guest review on
The Book Smugglers
I've been sneaking chapters of
Wild Magic
by Tamora Pierce, first in The Immortals quartet. I adore this series so expect a gushy review soon.
Steph Bowe
and I have done swapsies with our manuscripts, and I finished
These Bones
, her novel, last night. May I be the first to "review" it and say that it's excellent. I sat for a long time after thinking about the characters and the final scenes. May we both find happy homes for our labours of love!
I was
interviewed on Steph's blog
last week, and the interview includes a short blurb for
Lharmell
, the first time it has appeared anywhere. Not even here! It's the "unofficial" blurb, ie. written by me. How funny, that despite being penned by the writer it's unofficial! Someone I've never even met will write the "official" version. I wonder what they'll make of it. Yes, I am daydreaming about cover art before I have a book deal. Dammit, I'm daydreaming about which bar will host my launch, what I will wear and which pen to use for autographing!
As soon as I've finished
My Soul to Take
I'll be getting stuck into
The Monstrumologist
by Rick Yancey, and I can't wait! Reviews I've seen so far have been pretty positive.
I've also been perusing Stephen King's
On Writing
for a new feature here called Books For Writers, where I review, well, books for writers. King's explanation of basic grammar has just blown my previous grammar learning out of the water. I haven't read any of his fiction novels, but I'm curious to try them now.
There's a
fabulous article here
about adults reading young adult books and why they're so popular with people of all ages:
"In the world of young-adult fiction, the problems tend to be solveable," Leader explained, compared to adult literary fiction, where problems tend to be internally focused. "There's something comforting about that sense of hope."
It's definitely that sense of hope and growth and looking forwards that I find addictive about young adult novels--and their sense of fun. Even the dystopias are often fun.
Speaking of dystopias,
here is a MASSIVE list of YA dystopian novels
going back 50 years. There's enough to keep me busy for long time, and the list is only going to get longer. Have you heard? Dystopias are the new bit lit! Bleak is the new black. My most anticipated books for next year are all dystopias released in the first quarter of the year, and I can't wait to see what the rest of 2010 will bring.
Books up shortly for review:
My Soul To Take

, Rachel Vincent


The Monstrumologist

, Rick Yancey

On Writing

, Stephen King


Fire

, Kristen Cashore

Wild Magic

, Tamora Pierce